Stonewell Hot Cider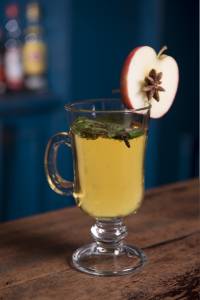 Our hot cider is perfect for those cold winter nights and is very simple to make, a nice alternative to traditional mulled cider with a bit more of a kick.
The recipe below is for one serving of hot cider.
Let us know if you try it over the festive period and Merry Christmas from all of us at Stonewell Cider!
Ingredients
35.5 ml Fireball Whiskey
3 Cloves
1/2 Cinnamon Stick
Hot Water
5 Mint Leaves
100ml (approx) Stonewell Medium Dry
Method:
Add boiling water to the glass to heat it up. Once warm, remove the water and add the Fireball whiskey, fill the glass with hot water to the halfway mark and top up with some Stonewell Medium Dry cider. Add the cloves, cinnamon stick and mint leaves and gently stir. Garnish with a slice of apple and enjoy by the fire.
You can learn more about our Stonewell Medium Dry Cider here.