Pulled Pork with Spicy Coleslaw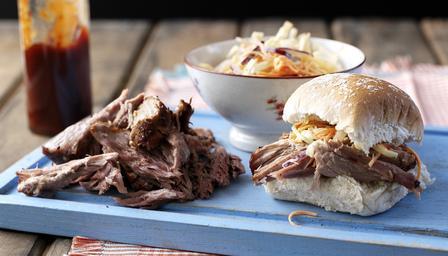 About the Recipe:
Pile this slow-cooked, melt-in-the-mouth pork onto bread rolls for the ultimate sandwich.
Ingredients:
For the pulled pork
oil, for greasing
2kg/4lb 6½oz pork shoulder
1 tbsp chilli flakes
1 tbsp whole grain mustard
salt and freshly ground black pepper
200ml/7¼fl oz white wine vinegar
250ml/9fl oz cider
3 onions, finely sliced
6 cloves garlic, sliced
For the coleslaw
half white cabbage, finely chopped
2 carrots, grated
2 red onions, finely sliced
1 red chilli, seeds removed, finely chopped
175g/6oz mayonnaise
salt and freshly ground black pepper
1 lime, juice only
1 tbsp soy sauce
To serve
soft white bread rolls
ready-made barbecue sauce
Method:
Preheat the oven to 170C/340F/Gas 3.
For the pulled pork, oil a baking tray and place the pork shoulder on top. Mix together the chilli, mustard and salt and freshly ground black pepper, then rub the mixture into the pork shoulder.
Pour the vinegar and cider over, then scatter over the onion and garlic.
Cover with parchment paper, then wrap in foil and place into the oven to roast for three hours. Remove the parchment and foil, then roast for another hour.
'Pull' the pork by sticking a fork in the shoulder and shredding the meat into small pieces with another fork.
For the coleslaw, in a separate bowl, mix together all of the coleslaw ingredients until well combined.
To serve, pile the pulled pork shoulder on a serving plate and spoon the coleslaw next to it. Serve with soft white rolls and barbecue sauce to taste.