Stonewell Tobairín Stockists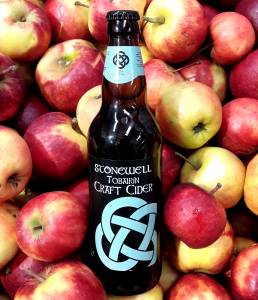 For those of you looking for a great Stonewell flavour but without so much of the zing, Tobairín (tobair meaning well, ín meaning small or light) is a low alcohol cider (1.5% ABV) made from fermented Elstar eating apples blended with fresh Jonagored juice; nothing else. Learn more about our Stonewell Tobairín here. To find your closest stockist check out our stockist list below, we hope you enjoy it!
Ardkeen Quality Food Store, Dunmore Road, Waterford.
Baggot Street Wines, 17 Baggot Street Upper, Dublin 4.
Ballymore Inn, Main St, Kimmeens, Ballymore Eustace, Co. Kildare.
Bayview Hotel, Ballycotton, Cork.
Bridge Street Bar, Castlebar, Co.Mayo.
Butler Arms Hotel, Waterville, Co. Kerry.
Blue Haven, Kinsale, Co. Cork.
Blackrock Cellar, 23 Rock Hill, Blackrock, Co. Dublin.
The Blue Loo, Main street, Glengarriff, Co. Cork.
Campbell's Tavern, Headford, Co. Galway.
Centra Kinsale, Kinsale, Co. Cork.
Corner Bar, Skibbereen, Co. Cork.
Collin's Supervalu, Carrigaline, Co. Cork.
Cronin's Pub, Crosshaven, Co. Cork.
The Coachhouse, 68 Stephen Street Upper, Dublin.
Doolin Hotel, Doolin, Co. Clare.
Drinkstore, Stoneybatter, Dublin 7.
O' Donovans Hotel, Clonakilty, Co.Cork.
1601 Off Licence, Kinsale, Co. Cork.
Farmgate, English Market, Cork City, Cork.
Franciscan Well Brew Pub, Sunday's Well, Cork
Gougane Barra Hotel, Ballingeary, Co. Cork.
Grey's Lane Bistro, Grey's Lane, Dingle, Co. Kerry.
Gibney's Of Malahide, Malahide, Co. Dublin.
Jones Supervalu, Miltown Malbay, Co. Clare.
House Dublin, 27 Leeson Street Lower, Saint Kevin's, Dublin 2.
Ice House Hotel, The Quay, Quignalecka, Ballina, Co. Mayo.
JJ Field's Supervalu, Skibbereen, Co. Cork.
Johnnie Fox's Pub, Glencullen, Co. Dublin.
Joyces Supermarket Knocknacarra, Galway.
Joyces Supermarket Headford, Galway.
Jus de Vine, Portmarnock Town Centre, Strand Rd, Burrow, Co. Dublin.
King Sitric, Howth, Dublin.
Kinsale Golf Club, Farrangalway, Kinsale, Co. Cork.
Kinsale Yacht Club, Pier Rd, Scilly, Kinsale, Co. Cork.
La Dolce Vita, Sandyford, Dublin.
Lilac Wines, 117 Philipsburgh Avenue Fairview, Dublin.
Martins Off Licence, 11 Marino Mart, Clontarf, Dublin 3.
Matsons Wine Store Bandon, Market St, Cloghmacsimon, Bandon, Co. Cork
Matsons Wine Store Grange, Cooneys Lane, Grange, Cork.
Maureen's Pub, 29/30 William O'Brien St, Mallow, Co. Cork.
McHugh's Off Licence, 57 Kilbarrack Rd, Donaghmede, Dublin 5.
Mortons of Ranelagh, 15-17 Dunville Avenue, Ranelagh, Dublin 6.
Number 21 Off Licence, 72 Main St, Midleton, Co. Cork.
Number 21 Off Licence, Shean Lower, Blarney, Co. Cork.
Number 21 Off Licence, Ballincollig, Co. Cork.
O'Keefe's Supervalu, Harbour View Reenrour, Bantry, Co. Cork.
O'Reilly's, Tara Street Station, Poolbeg St, Dublin 2.
Radley's Drink's Emporium, Little Island, Co. Cork.
Roches Bar, The Hook Peninsula, New Ross, Co. Wexford.
Roberts Cove Inn, Minane Bridge, Co. Cork.
Ryan's Supervalu, Glamire, Co. Cork.
Sandyford House, Sandyford Village, Sandyford, Dublin 18.
Scally's Supervalu, Clonakilty, Co. Cork.
Smith's Supervalu Kinsale, Kinsale Quarter, New Rd, Kinsale, Co. Cork.
The Wineshop at the Laurels, 186 Whitehall Rd W, Perrystown, Dublin.
The Old Punchbowl, 116 Rock Rd, Merrion, Blackrock, Co. Dublin.
Thunder Road Café, 52-57 Fleet St, Temple Bar, Dublin.