Irish Food Writer's Guild Awards 2014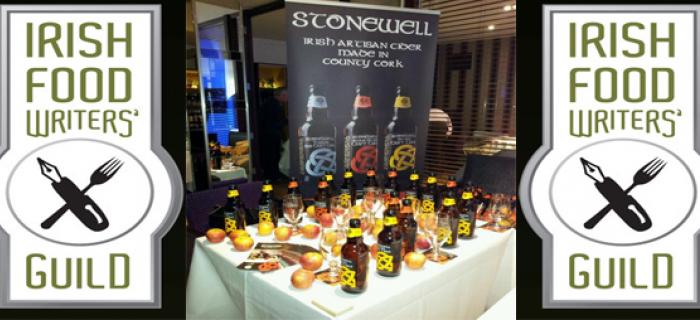 We are delighted to announce that we have won the Irish Food Writers' Guild's inaugural Drink Award. The 2014 awards were presented by the guild at an industry celebration at l'Ecrivain Restaurant yesterday, 12th of March. The awards are supported by Bord Bia, who were commended by the Guild for their tireless support for the Irish food industry, both in Ireland and overseas.
Cork's reputation as the food capital of Ireland received a huge boost, with six of the seven awards going to Cork producers, organisations or individuals.
Now in its 20th year, the Irish Food Writers' Guild (IFWG) Food Awards recognise and reward producers of the highest quality food, together with industry stalwarts who devote their lives to supporting and promoting Irish food.
Aside from ourselves, winners included Cork's Ballyhoura Mountain Mushrooms, Coolea Matured Farmhouse Cheese and Irish Atlantic Sea Salt.
An Environmental Award was presented to Responsible Irish Fish (Castletownbers) for its commitment to the development of sustainable fishing practices and a Lifetime Achievement Award was presented to Myrtle Allen of Ballymaloe, a much-loved member of the Guild, on the occasion of her 90th birthday.
Lizzie Gore Grimes, chairperson of the IFWG, said: 'Cork is flying the flag at this year's awards and the guild has discovered some truly wonderful products and innovative organisations in the south of the country that just couldn't be ignored.
'But these awards are a national celebration of fine food and outstanding producers, all of whom have one thing in common, a commitment to innovation, which is proving integral to Ireland's reputation at home and abroad. Without innovation, we would not have this dynamic and vibrant food industry of which we are extremely proud.
'Today's winners represent the very best of Irish and are awarded for their outstanding produce and important contribution to helping retain Ireland's fine reputation on the international stage.  Over the past 20 years, we have celebrated over 100 producers, individuals and organisations from every county in Ireland, but today belongs to the county of Cork, which has swept the board at this year's awards for its exceptional food credentials.'
The IFWG Food Awards is one of Ireland's most enduring and respected events of its kind in Ireland.
The Judging Process
No company or individual can enter themselves into these awards
Every member of the Guild is invited to nominate products they believe are worthy of an award
The products must be produced in Ireland and the main ingredient must be home produced
The producer must be trading for at least three years
Products are bought and paid for and a formal tasting meeting takes place where members vote, using proportional representation