Holland Calling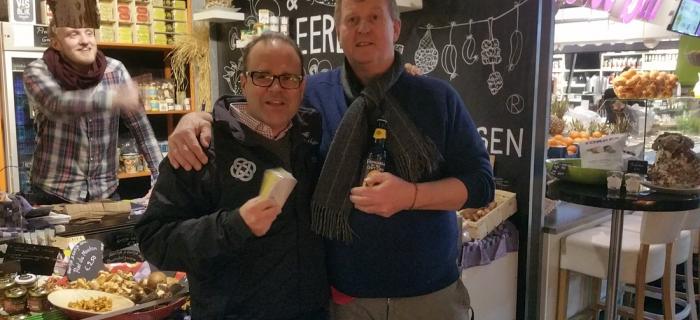 What a whirlwind. Yesterday started at 3.45 a.m. – off went the alarm clock to get me to Cork airport for the 6 a.m. flight to Amsterdam. Forty winks later and I'm meeting Raùl Henriquez, our Dutch distributor in the centre of the canal laden metropolis. Originally born in Aruba a former Dutch colony, but now very much installed in northern Holland, Raùl is becoming the go to person for all things cider in a country which is only just realising what real cider has to offer.
Raúl started his cider importing business back in 2010, the same time we started Stonewell. This isn't the only thing we share in common. Like us, Raúl shares a passion for juice only cider from around the world. From a non-existent base he has grown the real cider sector into a fledgling part of the Dutch alcohol avant-garde. Whilst volumes aren't large, a visit was long overdue! (Here's Raùl holding court at one of his cider training days).
We kicked the day off visiting off-licences and bars in Amsterdam, made a quick pit stop for lunch and uncovered a secret gem in the Hague, flying on to the very exciting Rotterdam and then a quick dash back to a couple of gastro-pubs in the city of our point of departure.
This country of 7,494 square kilometres houses 16.8m people, which equates to 1,200 people per square kilometre. To put that in context, Denmark, its northern neighbour houses 5.6m people across 42,914km squared, or 122 people per square kilometre! (Ireland sits at approximately 73 people per square kilometre).
That density of people necessitates planning and lots of it. From the efficiency of public transport to the architecture and structure of its social spaces this is a society that is structured to work. And work it does, one of the first true trading nations, Holland oozes an active cosmopolitan culture; diverse, dynamic and open.
Not surprisingly therefore I met some fantastic people on our journey, all of whom spoke English perfectly and usually with a couple of other languages thrown in.
Of the many individuals I met, either cider aficionados, the uninitiated or simply passionate foodies two come to the fore in particular. I met Ramon Brandt at Appels en Peren (www.cider.amsterdam), Amsterdam's first retail venue dedicated solely to the sale of cider. The shop opened in January of this year and has a comprehensive whilst not exhaustive selection of ciders from across Europe. All of which is presented in a minimalist clutter free manner, more the hall mark of premium upmarket fashion retailers: this is the way I like cider presented, given adequate space to shine and glisten it does. Ramon, a former sommelier, and the store owner Heleen Nobel are passionate about apples and the alcohol it creates. For such an unproven market this store is a major investment and a reflection of the Dutch entrepreneurial spirit – I hope also this indicates that the cider market in Holland is about to fly!
No less remarkable is the Market Hall in Rotterdam. An incredible up-ended horse shoe structure which on its perimeter serves as apartments and under its 131 foot high mural coated ceiling is a myriad of internal market stalls. These market stalls are an eclectic reflection of Holland itself, ranging from the trendy to ethnic to organic. One in particular is the Casa Reinders Delicatessen run by a charming Dutchman by the name of Roelof. A dedicated foodie and cider aficionado who runs a cornucopia of produce; including a range of mushrooms that would give our own Ballyhoura Mushrooms a run for their money, to exotic oils, vinegars, dried meats and fish. Raùl was delivering some Somerset Pomona to Roelof and subsequently we tasted it with the abundance on offer – a tutorial in itself. Roelof, apart from being a charming man, is a supporter of the annual cider festival which is held in Rotterdam every April; and for which we will return on the 30th.
With sated appetites we bid Roelof farewell and sped back to Amsterdam. De Wildeman and the Beer Temple were our two final stops. Two locations with stacks of ambience and consumers seriously interested in what they were drinking, how it was made and where it came from.
Boarding the train to my hotel on the outskirts of the city at 10.30 p.m. my brain was a little overwhelmed with all that I'd seen. However, the over-riding sense was one of positivity lined with a hope that the Dutch could take to real cider in a big way!