Great Taste 2013!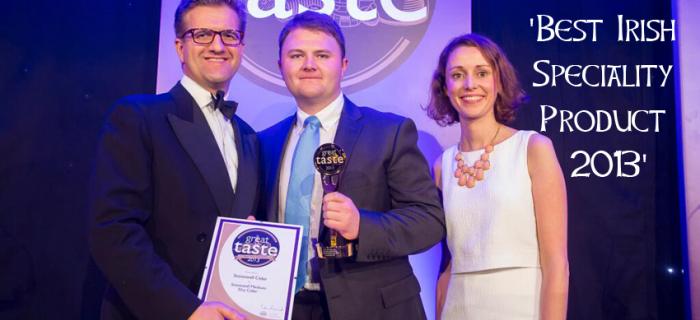 Stonewell Cider's Medium Dry Cider has been crowned Best Irish Speciality at the Great Taste Awards 2013.  Our best-seller, a blend of Dabinett, Michelin, Elstar, Jonagored and Falstaff apples, which are all sorted manually, milled, pressed and fermented separately, was joined in the final by our Dry Cider, and a wonderful Port Jelly produced by Corleggy Cheeses, winner of 'Best Artisan Producer' on the night. Judges commented that our Medium Dry blend was "light, refreshing, well balanced and delicious."
The award, which was sponsored by Bord Bia, was presented by Gillian Swaine at the Great taste Golden Fork dinner on Monday 9th September at the Royal Garden Hotel in Kensington, London – an event attended by the crème de la crème of food producers, speciality food buyers, fine food retailers, chefs and food journalists, as well as many of the gold star winners from this year, and Alumni. Tensions were high on the night, with on-lookers visibly nervous and excited with the looming announcement of who would be crowned 'Supreme Champion 2013', rising to the top of almost 10,000 products.
The award presentations were interspersed well, between a fantastic 5-course meal, made up entirely of many of the 3-Star products from this year, but finally, the announcement came. My nerves grew exponentially as we were named as one of the 15 finalists, but in the end it was Suffolk-based Marrybelle Dairy which deservedly scooped the award. The Great taste judges felt that this (incredible, going by our tasting during the meal) dairy product was worthy of the top award and our huge congratulations go to the Strachan family. It was a privilege to be in the final with such an inspiring lady as Katherine, and we wish her continued success for her business. As well as getting to talk to Gillian on the night, other notable meetings included Barry and Micheal of Silver Hill Farm, who gave great insight into scaling a company and capturing a market, Birgitta from Burren Smokehouse, a dynamic veteran of the Great Taste Awards (I challenge you to find a year in which they haven't won something), and of course, the loveable Corleggy Cheese, represented by Silke, Tom, and (unofficially) Kevin, who were a constant reminder that business success should be enjoyed, and hard work does get recognised.
Great taste is all about taste.  It is not about packaging or smart design.  Judges are simply presented with food or drink to taste and they provide valuable feedback to thousands of producers each year.  For a producer to win a Great taste 1-Star award is a great achievement, to win a 2-Star means that many judges have been bowled over by the product, and to win a 3-Star Great taste award can be compared to a chef winning a Michelin Star.  It simply is seen in the world of fine food as a hallmark of taste, quality and excellence. We are very proud to have had both of our entries among this elite group of 125, and even more proud the have had both in the Top 50, with 1 going on to the Top 15. To win an award of this magnitude is a great honour for us, and confirmation that we are on the right track. We hope this will aid even more huge growth for the craft cider industry, and will allow us to continue to raise the profile of our products.