Flit to France
Sometimes one has to make exceptional sacrifices for one's passion. A quick client meeting in Paris obliged me to make a visit to Ackerman. Ackerman, a French business established in 1811, one of the giants in French wine making. It was primarily a fact finding mission, to visit one location that had the potential to produce up to 9-10 million bottles of wine, ranging from the simple table wine right up to Méthode Traditionnelle and Crémant de Loire.
Whilst wandering around this massive organisation with the most sophisticated whizzbang equipment you could shake a stick at, that could produce such a mass of alcohol I was struck by one thing. A company that had invested millions to create a monster of production was now spending its time trying to sell low volume, high value small batches!
I had the good fortune of making the visit with Christophe Moron of la maison Gagnebert http://www.domaine-de-gagnebert.com/. And what an excellent companion. After the industrial delights of Ackerman, this vigneron invited us to his hidden cave, near Saumur where he ages his wine. Having tasted his excellent produce from '97, '90 and 2014 in the catacombs (see photo) the conviviality carried us through the remainder of the day.
Moving on from the 10 metres underground we ended the day in his impressive cave amongst his vineyards. I felt right at home as the ground consists largely of slate stone and the old buildings resembled very closely those of our home, Nohoval in south Cork – some of which were constructed on solid bed rock! I think we might see Christophe in Ireland soon as he is a fan of "la chasse" with a beautiful setter, Java.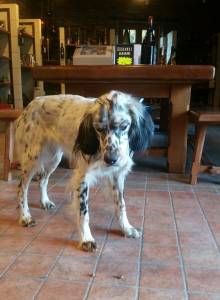 The take aways from this trip were, being the biggest sure isn't necessarily the best, very good friends can be made in a convivial environment lubricated by artisanal products (I knew that already) and that we aren't alone in having some crackpot politicians. The latest proposal I heard in France was a tax on robots because they're stealing the jobs of workmen. Hardly in possession of their own artificial intelligence and the tax man's getting his cut! Plus ca change, plus ca reste la meme chose……………