CiderCon Part 2
I discovered to my astonishment that there are over 1,100 attendees at CiderCon. Which explains the need for such a massive hotel here in Chicago, all 1,500 rooms and 25 floors; built in 1926 there are parts of it where you can imagine the gun toting gangsters swaggering around with violin case under arm. And as if to re-enforce that vision the handgun image on the entrance door brings it very much alive.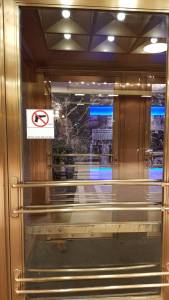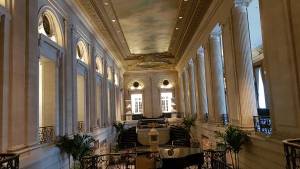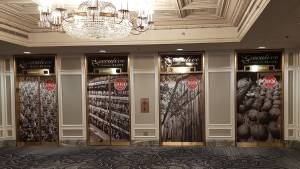 This is an amazing gathering. We have an App that tells us what is going on at any given time, and where and what it's about across the 5 days of conference. There are events kicking off at 8 a.m. and some run until midnight.
At a conference concerning alcohol you might think that it's only fun and frivolity. There is some undoubtedly, particularly towards the latter end of the day. However, given the passion and intensity with which so many attendees apply to their craft there's a very serious and stimulating side aswell.
I kicked off with a session on "A reductionist approach to taste and flavour", lead by Biochemist and cider maker Charles McGonegal and also Ambrosia Borowski an authority and tutor on cider. Over a 3 ½ hour period Charles and Ambrosia took us through, via sensory analysis, a tremendous amount of samples highlighting the chemical elements that create particular flavours within cider. It was in fact, very demanding, tremendously enriching, revelatory and fun. I took away a lot to think about.
And those thoughts carried me through to a book signing by Ciderologist Gabe Cook at the Northman which just happens to be a bar, almost entirely dedicated to cider, which my afternoon's instructor Ambrosia oversees.
I have to say, it was like the United Nations of cider. One minute I'd be talking to Alex from Russia, the next Adie from Luxembourg cider maker Ramborn, the next Tom Oliver and on and on it went. During which time I had the opportunity to sample some stunning cider and perry putting my new-found skills of the afternoon to test.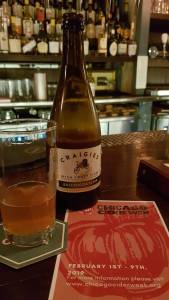 Indeed, there was a little treasure to be found amongst all that cider in the form of a 2015 vintage Craigies Cider. And despite the elapsed time I spotted Simon Tyrrell and Angus Craigie's craft at the first sip!
Straight off the bat the following morning I was into a presentation about the Cider Institute of North America's formal education programmes. In conjunction with Cornell University and Brock University they are set to offer certified courses for, Apprentice Cider Maker, Advanced Cider Maker and Master Cider Maker. It seems to me to be a thoroughly comprehensive curriculum constructed for the future cider maker by those forging the way in this burgeoning sector in the States.
Now, what's the App telling me to do next………………..