Flipping French Pancakes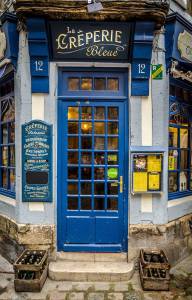 I hear it's icy cold with wintery showers at home. Here in Caen, it's a little less cold but the stuff falling out of the sky reminds me a little of the old sod. But how bad? To be in the world's centre of pancakes for Shrove Tuesday! One can hardly turn a corner in Normandy without seeing another creperie creating pancakes with some of the most delicious and occasionally bizarre fillings. Most important of all though is the liquid they consume with it. This is cider country; a perfect combo.
To create delicious traditional French crepes in your own home this pancake day try this easy recipe:
Ingredients:
250g buckwheat flour
2 eggs
50cl cold water
40g melted butter (salted)
Some traditional filling suggestions:
Lemon and Sugar
Lemon and Honey
Nutella
Ham, egg and grated cheese.
Method:
Blend all the ingredients together until mixture is smooth and bubbles form on top, about 30 seconds.                                                                
Let batter sit at least 15 minutes at room temperature.
Heat a nonstick skillet or pan over medium heat. Lightly coat with butter.
Add a ladle full of batter and swirl to completely cover bottom of the pan.
Cook until underside of crepe is golden brown, 2 to 3 minutes.
Add the filling to the middle of your crepe and fold each of the sides on top.
In true French style enjoy with a glass of cider, either a Stonewell Dry or Medium Dry would go perfectly, whichever is your preference.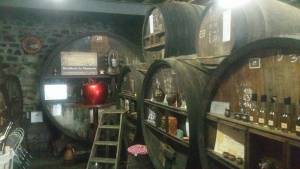 I must confess I am here not only for the pancake delights but also a little research and learning. I just visited Didier Legay, third generation since 1920, creating inspirational Calvados at the Distillerie la Monnerie. There's even a bottle of 50 year old if you have €250 in your pocket! Didier, his wife and son welcomed us to their farm and showed us the original still in use from the company's founding and the barns upon barns of oak barrels quietly carrying on their work of aging this liquid gold.
Plenty of food for thought and you could do worse tonight, than making your dessert pancake, flambéed in Calvados with a spot of whipped cream and a sprinkling of honey.
Happy Pancake Day!