Archive for April, 2017
A hazelnut crust is a simple way to dress up goat's cheese and is complemented by the sweetness of the warm Stonewell apple sauce. This recipe is an ideal starter for two people and can be easy adapted to serve more if needed. Ingredients 100g of goats cheese, cut into...
Read More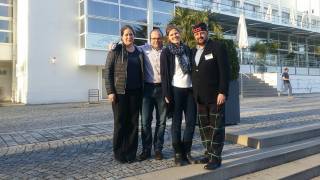 The annual pilgrimage to the Apfelwein Weltweit Messe (Worldwide Apple wine Festival) in Frankfurt was dutifully attended last weekend. This is our 3rd return and as such we finally came prepared! Petty cash, signage and enough German speakers. Great Europeans the Germans might be but speaking anything other than...
Read More